Olive Farmacy
Regular price
Sale price
$21.99 USD
Unit price
per
Sale
Sold out
After a day of basking in the sun's warm rays, your skin deserves some extra love and care. Olive Farmacy's After Sun Treatment is here to provide the ultimate relief for sun-drenched skin.
Packed with the goodness of nature, this rejuvenating formula combines the powerful benefits of our super healthy, high polyphenol Rallis Olive Oil, witch hazel, and aloe vera and blend of calming pure essential oils!
High Polyphenol Olive Oil: Derived from the sun-drenched Mediterranean, our olive oil is rich in antioxidants and high in polyphenols. It works wonders in calming and nourishing sunburned skin. Say goodbye to redness and inflammation as this luxurious oil deeply moisturizes, leaving your skin feeling hydrated and revitalized.
Witch Hazel: Known for its natural astringent properties, witch hazel comes to the rescue for sunburned skin. It helps to soothe and cool the discomfort caused by excessive sun exposure. Experience instant relief as this magical ingredient gently tones and refreshes your skin, bringing back its natural balance.
Aloe Vera: Aloe vera has long been hailed as a skin savior, especially for sunburns. Our After Sun Treatment harnesses the incredible healing power of aloe vera to replenish lost moisture and promote skin rejuvenation. Feel the cooling sensation as this botanical gem works its magic, leaving your skin feeling nourished and restored.
Blend of Pure Essential Oils: We've added a carefully selected blend of pure essential oils to our After Sun Treatment to provide additional benefits for your skin. These oils not only help to calm and soothe sunburned skin but also give the product a delightful aroma. Enjoy the sensory experience as the scent transports you to a tranquil oasis.
With Olive Farmacy's After Sun Treatment, you can indulge in the ultimate post-sun pampering experience. Simply apply a generous amount to sun-exposed areas, and let the soothing blend of ingredients work their wonders.
Whether you spent a day at the beach, enjoyed outdoor activities, or just need some TLC after sun exposure, this treatment will become your go-to solution for sunburn relief.
Give your skin the care it deserves after sun exposure with Olive Farmacy's After Sun Treatment. Embrace its soothing embrace and let the healing power of nature restore your skin's radiance. 
Remember to always protect your skin with sunscreen and limit your sun exposure to keep it healthy and glowing!
Share
Ingredients

Rallis Ice Pressed® High Polyphenol Olive oil infused with calendula flowers (Olea europaea with calendula flowers); Aloe vera juice (Aloe vera); Witch hazel (Hamamelis virginiana); Chamomile Floral Water (Anthemis nobilis flower); Lavender essential oil (Lavandula angustifolia); Elemi essential oil (Canarium luzonicum); Geranium essential oil (Pelargonium graveolens); Germall preservative.
Olive Oil & Skincare

Rich in Vitamin E & other naturally occurring antioxidants & nutrients,high polyphenol olive oil has been proven to reduce inflammation; provide deep moisturization with clogging pores; assist in collagen production and rejuvenate & heal damaged skin. All of our skin care products are made with Rallis Ice Pressed® Olive Oil.  
Care Information

Apply to sun exposed skin. Avoid contact with eyes. Discontinue use if irritation occurs. For a further cooling effect, keep in the fridge.
View full details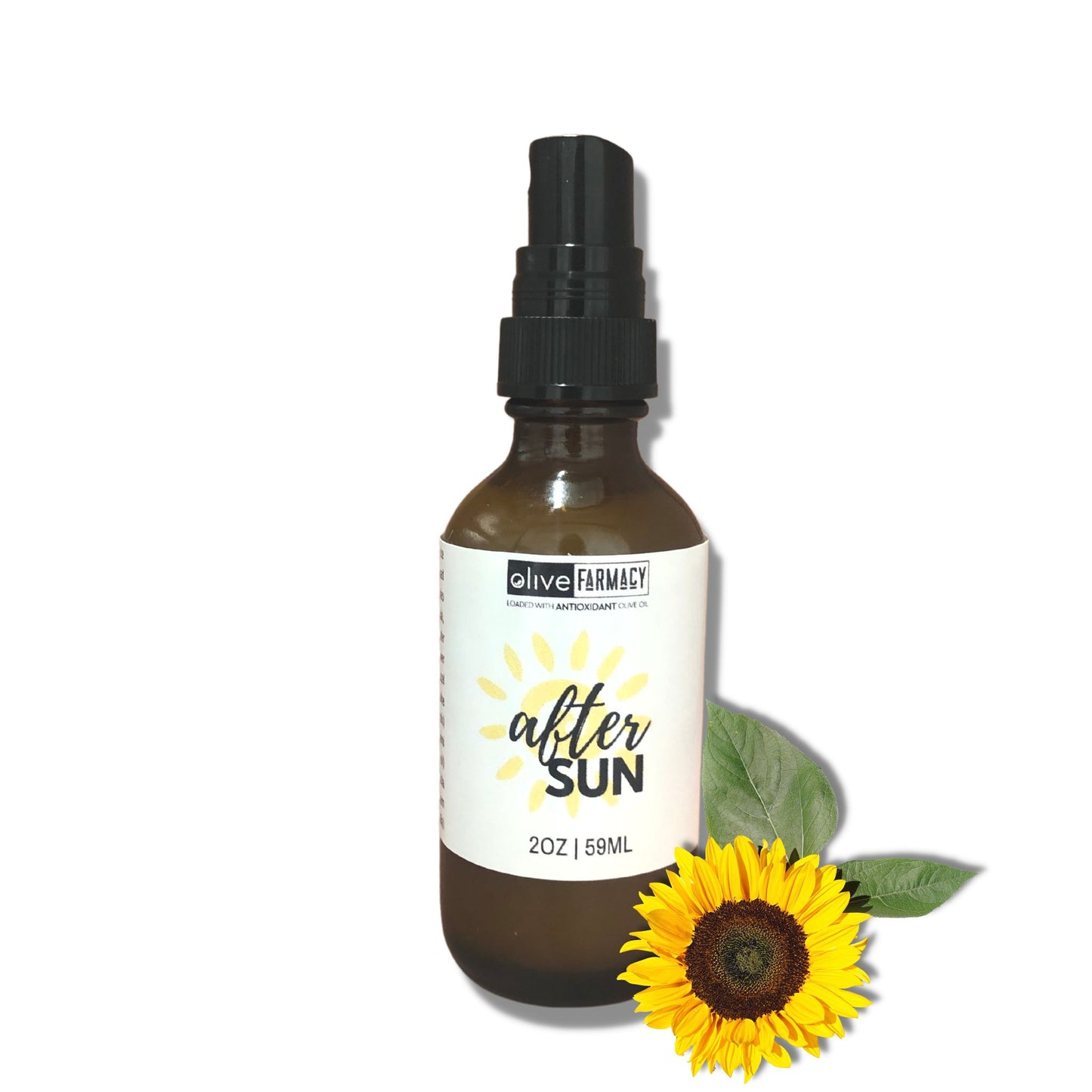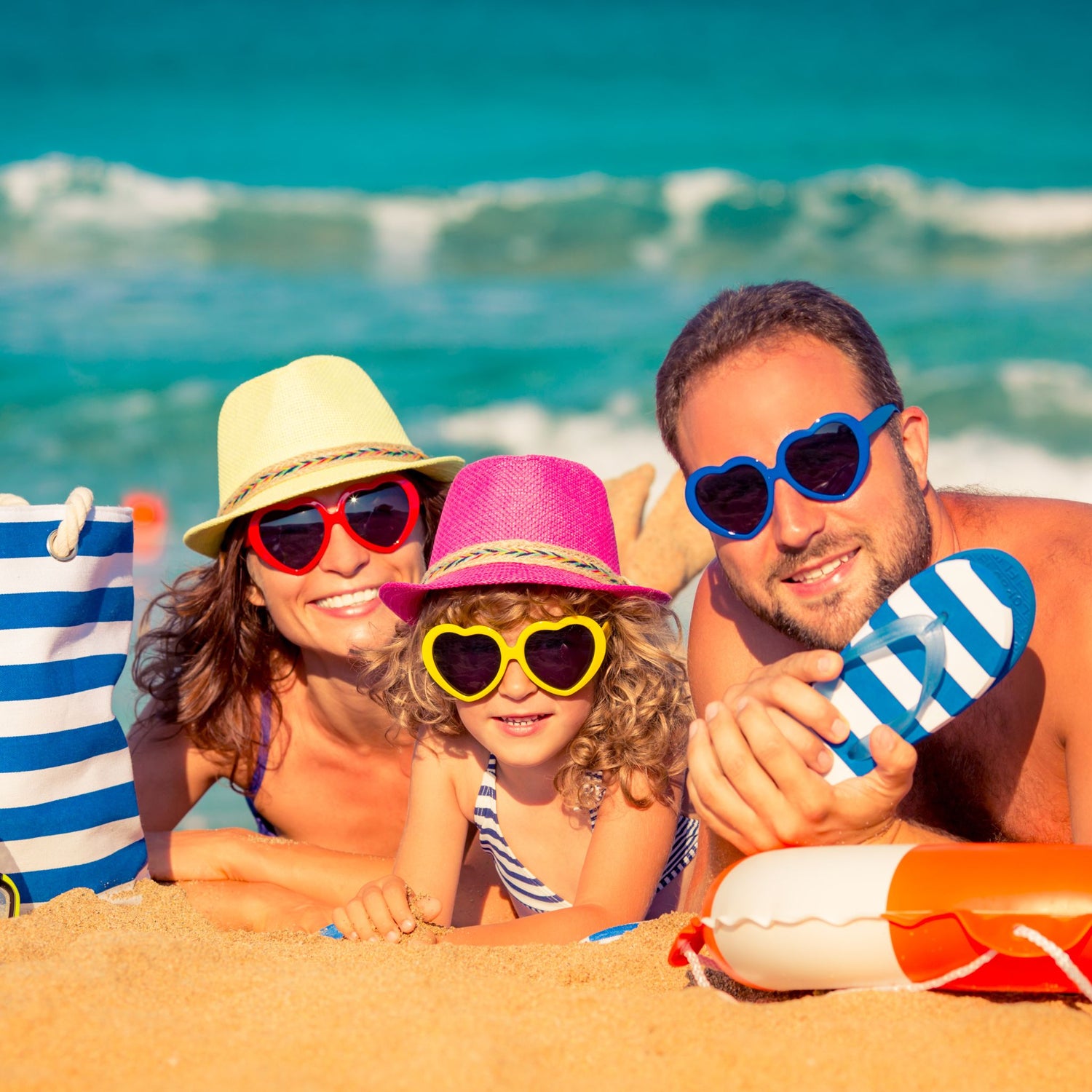 The Benefits of Spending Time in the Sun!
Daily sun exposure offers numerous benefits for both physical and mental well-being. Firstly, sunlight is a natural source of vitamin D, crucial for maintaining healthy bones and teeth, as well as supporting immune system function. By spending time in the sun, our bodies can produce vitamin D, which aids in the absorption of calcium and phosphorus, vital for strong skeletal structure. Moreover, sunlight has been linked to improved mood and mental health. Sun exposure triggers the release of serotonin, a neurotransmitter responsible for feelings of happiness and well-being. This can help combat seasonal affective disorder and boost overall mood. Additionally, sunlight can regulate sleep patterns by influencing the production of melatonin, a hormone that helps regulate the sleep-wake cycle. Exposure to natural light during the day can enhance alertness and promote a more restful sleep at night. It is important to balance sun exposure with adequate protection to avoid sunburn and the potential risks associated with excessive ultraviolet (UV) radiation.