Olive Farmacy
Regular price
Sale price
$16.99 USD
Unit price
per
Sale
Sold out
Our Soothing Hemorrhoid Oil is an all-natural solution for soothing and healing hemorrhoids. This unique formula is infused with the nourishing properties of olive oil and moringa, along with the therapeutic benefits of yarrow, lavandin, and cypress essential oils.
The star ingredient of this hemorrhoid oil is the olive oil, which is known for its anti-inflammatory and antioxidant properties. It helps to reduce swelling, irritation, and itching associated with hemorrhoids, while also promoting the healing of the affected area. Moringa is another powerful ingredient that is rich in vitamins and minerals and has been traditionally used for its anti-inflammatory and analgesic properties. Together, olive oil and moringa provide a potent combination for combating the discomforts of hemorrhoids.
In addition to the olive oil and moringa, this hemorrhoid oil also contains yarrow, lavandin, and cypress essential oils. Yarrow has astringent and anti-inflammatory properties that help to reduce swelling and promote healing. Lavandin, a hybrid of lavender, is known for its soothing and calming properties, and can help to relieve pain and discomfort associated with hemorrhoids. Cypress essential oil is also beneficial for the anal area as it helps to improve circulation and reduce inflammation.
Using our Soothing Hemorrhoid Oil is easy and convenient!
Share
Ingredients

Rallis Ice Pressed® Olive Oil (Oleo Europea) infused with Moringa Leaves (Moringa Oleifera), Proprietary Essential Oil Blend: Cypress (Cupressus sempervirons Leaf Oil), Geranium (Pelargonium Graveolens Oil), Patchouli (Pogostemon Cablin Leaf Oil), Lavandin (Lavandula Intermedia Oil), Yarrow (Achillea Millefolium Oil)
Olive Oil & Skincare

Rich in Vitamin E & other naturally occurring antioxidants & nutrients,high polyphenol olive oil has been proven to reduce inflammation; provide deep moisturization with clogging pores; assist in collagen production and rejuvenate & heal damaged skin. All of our skin care products are made with Rallis Ice Pressed® Olive Oil.  
Care Information

Apply as needed. Discontinue use if skin becomes irritated. External Use Only.Store in a cool place away from heat or direct sunlight.
View full details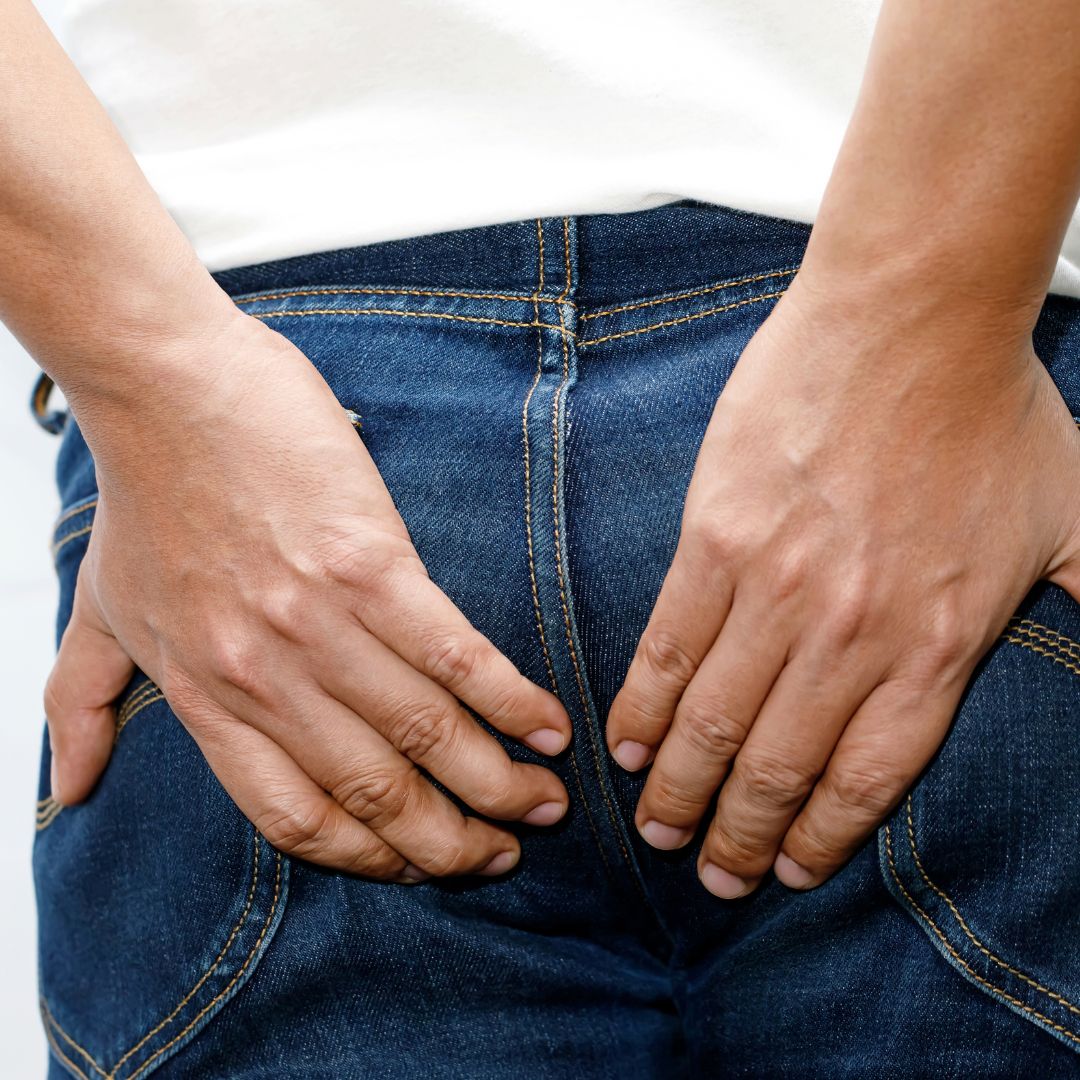 There is NO Shame!
About 1 in 20 North Americans suffer with hemorrhoids. Our oil provides gentle relief to help reduce swelling and irritation.