Theo's Blends
Regular price
Sale price
$59.99 USD
Unit price
per
Sale
Sold out
When the cold and flu season strikes, having a reliable ally to help you maintain your health and vitality is essential. Look no further than Theo's Blends Cold and Flu Spray, a potent and all-natural solution meticulously formulated to bolster your immune system and deliver much-needed relief. Loaded with premium ingredients like Rallis High Polyphenol Olive Oil, Liposomal D3, Oregano Oil, and Thyme Oil, our spray is expertly designed to keep you feeling your best year-round.
Key Features:
Rallis High Polyphenol Olive Oil: Sourced from the finest olives, Rallis High Polyphenol Olive Oil is celebrated for its antioxidant properties. It effectively combats oxidative stress, which can weaken your immune system. With Theo's Blends, you can harness the benefits of this top-tier olive oil in a user-friendly spray.
Liposomal D3: Vitamin D3 is a vital nutrient for immune health, and our liposomal delivery system ensures optimal absorption. Theo's Blends Cold and Flu Spray provides the ideal dose of Vitamin D3 to support your immune system, especially during the dark, winter months when sunlight exposure is limited.
Oregano Oil: Recognized for its natural antibacterial and antiviral properties, oregano oil is a potent addition to our blend. It empowers your body to ward off illnesses and alleviate symptoms precisely when you need it most.
Thyme Oil: Thyme oil introduces an additional layer of immune support. Its well-documented antimicrobial properties further enhance the efficacy of our spray.
Why Choose Theo's Blends Cold and Flu Spray?
Quick and Convenient: Our spray format ensures easy, on-the-go usage, enabling you to stay protected no matter where you are.
Natural and Effective: We are committed to leveraging the power of nature to strengthen your immune system, without any harsh chemicals, fillers, or stabilizers.
Don't let the cold and flu season catch you off guard. Arm yourself with Theo's Blends Cold and Flu Spray, which is formulated with the goodness of Rallis High Polyphenol Olive Oil, Liposomal D3, Oregano Oil, and Thyme Oil, and is completely free of fillers or stabilizers. Seize control of your health and remain well, the natural way.
Order your Theo's Blends Cold and Flu Spray today and embrace a healthier, more resilient you. Make the intelligent choice for immune support, backed by the power of nature. Stay well with Theo's Blends.
Share
Ingredients

Vitamin D3 plays a vital role in cardiac health and fighting off infection. Maintaining optimal levels of this vitamin will result in a heightened immune system, increased energy, and elevated mood. It also helps regulate calcium and phosphorus in the body which helps maintain strong bones & teeth while maintaining healthy muscles.  

Oregano Oil has some pretty incredible properties; antiviral, anti-inflammatory and antioxidative. Due to its high levels of the compound, carvacrol, Oregano oil is considered a natural antibiotic and is known to be most effective against respiratory and flu viruses. It also noted that because it has an analgesic effect, it may also help with painful flu symptoms such as body aches and sore throats. Oregano oil is also a powerful antioxidant as it assists in removing free radicals and oxidative stress from the body. Additionally, Oregano oil assists the gut by reducing fungus and bacterial overgrowth in the intestines.  

Thyme Oil is a powerful antifungal, anti-inflammatory and anti-bacterial. It contains the compound thymol, which is antispasmodic, making it excellent for reducing coughs and the duration of respiratory tract infections. Thymol is also effective at reducing infection. Another compound, carvacrol, is a highly effective anti-inflammatory agent with cardioprotective capabilities making it beneficial for people with heart disease.

Vitamin K2 is an awesome support vitamin and plays an integral role in the process of blood clotting.  This vitamin helps to reduce calcification and buildup in the arteries making it vital in supporting a happy and healthy heart.

Rallis Ice Pressed® Olive Oil is the ultimate carrier oil for vitamins, nutrients and minerals because it exhibits higher levels of bioavailability than any other carrier oil on the market. Your body will absorb up to 47% more of the vitamins it carries. Rallis Ice Pressed® Olive Oil also exhibits incredible flavour and benefits a healthy heart.

Inactive Ingredients: Organic Rallis Ice Pressed® Olive Oil, Vitamin E, Phosphatidylcholine.

 
Dosage

Adults and adolescents 14+:Spray up to 9x daily in the mouth at the onset of cold or as often as needed.
View full details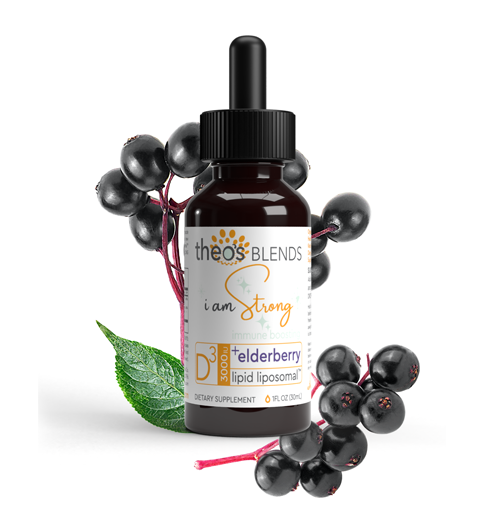 MAINTAIN HEALTHY BRAIN FUNCTION
Vegan Vitamin D
supports healthy cognitive function, memory recall, focus and wellbeing. May
help prevent early onset of dementia.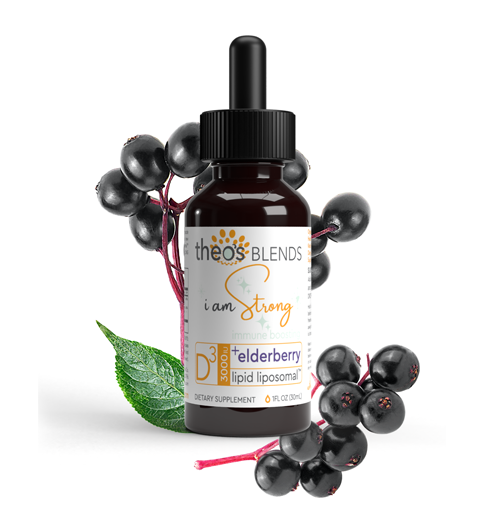 BONE STRENGTHENING
By increase calcium absorption Vitamin D can decrease bone loss and lower the risk of fracture.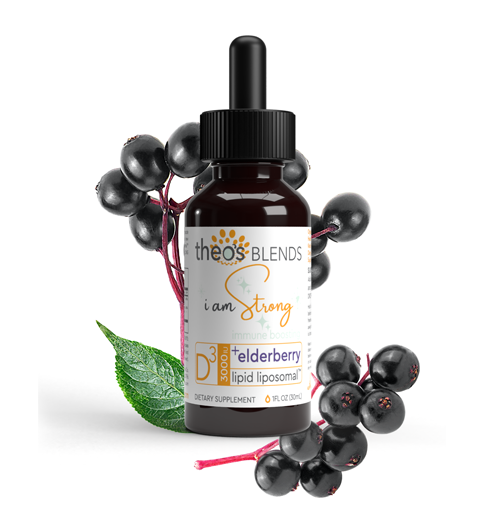 IMMUNE SUPPORT
Double your immunity with Theo's Blends Vitamin D and Elderberry! Fight off viruses, bacteria and stress, all while protecting you from illness year-round!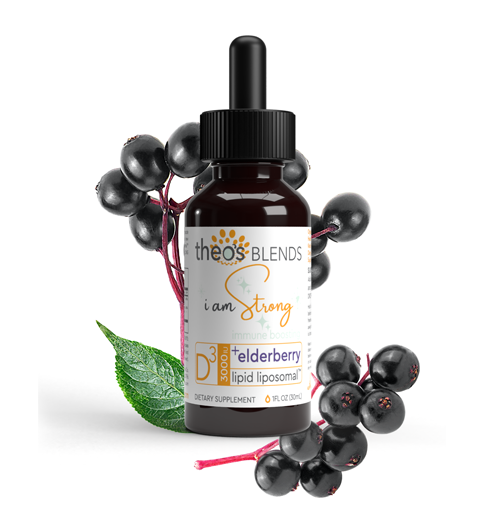 MUSCLE GROWTH
Vitamin D plays an essential role in the development of muscle mass and strength. By regulating hormone function Vitamin D can aid in weight loss and decrease body fat.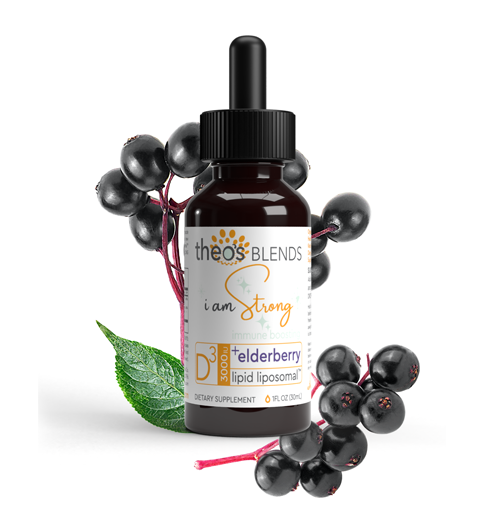 RALLIS ICEPRESSED® OLIVE OIL
Our olive oil is a natural source of long-chain triglycerides (LCTs) making it the perfect nutraceutical delivery system and boasting far higher bio availability than medium chain triglycerides (MCTs) or extremely inferior and cheap glycerin.